A super quick post this morning to shout to to a seriously amazing vegetable tortellini soup I made last night. A few weeks ago I came across the recipe at Sing For Your Supper, and last night (with all the slushy, rainy, windy, horribleness we had going on here in Toronto) was the perfect night to try it.  I totally forgot to take pictures, so here is one from the original source: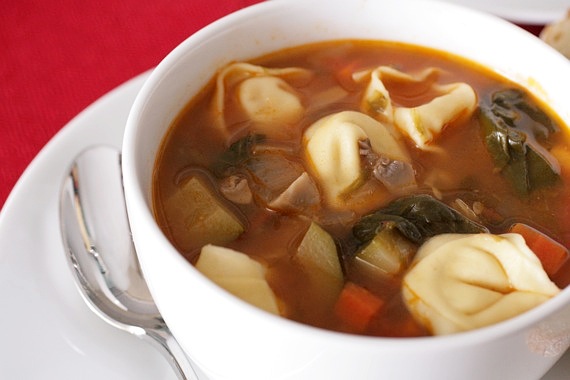 This soup was really really good. It was super easy to make, and was delicious. And it was hearty. And it was warm.   It does take a bit of time to cook (as most good soups do) so start cooking this one a little more than an hour before you want to eat.  This recipe made enough for two of us to eat big, dinner sized bowls of soup, and will be enough for one lunch.
Vegetable Tortellini Soup
Source: Sing For Your Supper, adaptations in italics.
2 tablespoons olive oil [I used a little less]

1 small onion, chopped
1 clove garlic, minced [As usual, I doubled my garlic and used 2 cloves]
3 carrots, peeled and chopped [The hubs didn't realize the carrots were for the soup, so there were only two left.  I would have liked to have one more]
1/2 cup red wine
1 can diced tomatoes
1 medium zucchini, chopped
1 bunch fresh spinach, rinsed and roughly chopped [I used Arugula, because it was on sale.  It was delicious.]
7-8 cremini mushrooms, cleaned and chopped
4 cups vegetable or chicken broth [I used 900ml of chicken broth, for the flavour.]
1 package (12 oz.) cheese tortellini (found in the refrigerated section)
salt and pepper
In a large pot, heat the olive oil over medium-high heat. Add in the chopped onion and carrots. Cook for 5-7 minutes, until vegetables are starting to soften, then add in the garlic and cook for 1 minute more. Stir in the wine and scrape off any bits from the bottom of the pan. Add in the tomatoes, zucchini, salt and pepper and broth; bring to a boil then reduce heat and cook for about 20 minutes, until all the vegetables are soft. Stir in the fresh spinach, mushrooms and tortellini. Cook for 15 minutes more. Serves 4. [Or 3 if you are really big eaters!]